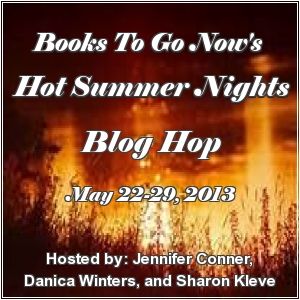 It's day 5 in the week-long Hot Summer Nights Hop!
Join 85 authors as we share sizzling hot excerpts and more. We have some pretty hot prizes too -- two GRAND PRIZES of a Kindle Fire and a $100 Amazon Gift Card. And, every author is giving a prize on their blog. Comment to win and be sure to leave your email so you can be contacted after the hop ends. See my prize details below.
<<<
Click on the badge for the other participants.
Today I'm offering a Kiss from my break-out novel, Hermes Online. A CataRomance Sensual Reads Reviewer's Choice Winner for Contemporary Romance.
While this story is fiction, you'd be surprised how many times authors write from life experience, even if it's only the smaller details.
My husband and I will be married 35 years this September.
In my case, this was my kiss on a museum date when we were first dating. An actual I'll die if I don't kiss you now kiss. All these years later, I still remember the details. How could I not give them to Vivienne? I hope you enjoy.
The Kiss
I closed the Word document and absently twirled my hair, lost in thought. There was so much of me in there, even the decorations in Jonathan's house said much about me. The fact that Lily looks identical to me was rather Freudian too, come to think. I laughed out loud at the thought. It's funny how our subconscious mind tells us what's what sometimes. The subconscious mind intuits what the conscious mind misses at first glance. Yes, the phone sex story was a whim, and who would have thought six years later, it would help me find my way back to myself? I wished in that moment my pen pal stood right here so I could say thank you. I'd thank him for lighting the match that eventually relit the candle of my self-confidence. I'd kiss him for real.
I pressed my fingers to my lips, imagining this curious and compelling green-eyed, chestnut-haired, large-handed, well-endowed man kissing me. And unbelievably, my panties got soaking wet. I flexed my fingers and crafted a scene from the sizzling phantom fire playing over my lips.
Having experienced amazing kisses in my life added just enough realism to the blend of movie kisses. I told the screen, "So, you want a kiss, eh? Then what will you think of this?"
S,
There is so much more to kissing for the first time than meets the eye. The would-be lovers laugh and smile and delight in each other's company. They talk, getting to know each other, trying to find the choicest morsels of their life and personality to share. They might hold hands for hours as they wander here and there. And when they sit side by side, perhaps on a bench at a museum, they'll look in feigned interest at the passersby, glance again and again at the exhibit, but not really seeing it. First, one will turn inward, the movement slight, barely noticeable. And then with no clear knowledge of doing so, the one will magically mirror the other. Their knees may touch, and one set of clasped hands might rest innocently upon a knee. And then a noise, a temporary distraction, might take their attention for a second, and both heads will turn to the sound, inadvertently closer now than before. When one turns back, their faces will be mere inches apart. Their eyes, green and gray, will hold each other's gazes, darting from one sparkling pupil to the other. They might unfocus to drink in the entire face for a second, perhaps lingering on the person's smile before meeting the gaze once more, a gaze noticeably warmer than a moment ago.
One face may turn a little, and in mirrored image, the other follows, only slightly tipped in the opposite direction. And the eyes ask the silent question as two thoughts become superimposed -- May I kiss you? Will you kiss me? The answer is subtle, missed by nearly everyone passing by, everyone save the smiling elder couple holding gnarled hands and assisted by their canes. Perhaps they, too, once shared a kiss sitting there, or plan to again later. But locked in their own world, they don't notice the elder pair walk by.
They are aware now only of each other, aware of little things, the flush on her cheeks, the gleam in his eye, the color of her moist lips, the imperceptible flare of his nostrils as he subconsciously reminds his body to breathe. They touch now. The kiss is at first soft, the lips asking permission for the firmness they crave. Another kiss grants this and another and another as faces turn to fit around chins and cheeks and noses. And then loose and pliable, those lips part now to make way for tentative tongues. These too begin their searching, gently at first then becoming bolder as they instinctively react to the warmth of each other's mouths and thrust as hands cup cheeks and arms wind around shoulders, drawing each other ever inward into the private space that shuts the waking world out and lets the dream begin.
V
Little did I realize when I began this kissing scene that I would abandon the amalgamated movie kisses. I stopped and read those words, my words, my kiss. That kiss had been real, as had the love behind it. My eyes filled with tears, but I sent it on. Feeling alone, I rose from my chair and walked away.
<>
And because S is such a compelling fellow, I've included some of his best quotes from those heated email exchanges with Vivienne. I hope you see what she sees in this mysterious man. :)

If you'd like one or all five of my S quote magnets, you need only ask in comments. I'll contact you for your address and mail them out.
*sigh* What a hottie.
۞

>>>>

۞

<<<<

۞
>><<

۞>>>>

۞

<<<<

۞
Things are still hopping this week.
After you've checked out the fabulous Hot Summer Nights authors, stop by these:
My Hot Summer Nights Prize:

On behalf of my 2-book saga: The Witchy Wolf and the Wendigo, I'm offering a gorgeous pair of handmade Native American beaded earrings
as well as an authorgraphed copy of
either book in my shape-shifting, paranormal, erotic romance.


Read how it all started at USA Today!
Want more? Read the beginning excerpt inside the cover

with Amazon's Look Inside feature.
Peek Inside!
>>

۞

<<
Rose Anderson ~ Love Waits in Unexpected Places
Main Blog:
Subscribe on the Main blog for interesting posts, updates & more.
http://calliopeswritingtablet.com/
Satellite Blogs:
One hop or four, there's lots of action on these blogs!
http://calliopeswritingtablet.blogspot.com/
http://calliopesotherwritingtablet.blogspot.com/
http://theancillarymuse.blogspot.com/