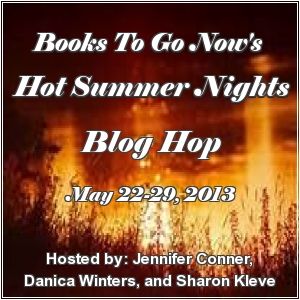 It's day 4 in the week-long Hot Summer Nights Hop!
Join 85 authors as we share sizzling hot excerpts and more. We have some pretty hot prizes too -- two GRAND PRIZES of a Kindle Fire and a $100 Amazon Gift Card. And, every author is giving a prize on their blog. Comment to win and be sure to leave your email so you can be contacted after the hop ends. See my prize details below.
<<<
Click on the badge for the other participants.
Today I'm offering a character interview I did several months ago. I think it an interesting peek inside one of my favorite leading men, Nicolas Halstead from Loving Leonardo. I hope you enjoy.
Here's the blurb:
Bound by limits dictated by society, Art Historian Nicolas Halstead lived a guarded life until a tempest in the form of Elenora Schwaab blew into his world. At first Nicolas can't decide if the audacious American is simply mad or plotting blackmail for not only does she declare knowledge of his homosexuality, she offers him a marriage proposal. After Ellie tells him of a previously unknown work of Leonardo da Vinci, a book of erotic love poems and sketches dedicated to the artist's long-time lover Salai, Nicolas joins her in a race to save the book from destruction. Along the way they encounter Historian Luca Franco and discover a comfortable compatibility that comes to redefine their long-held notions of love. The trio embarks on an adventure of sensual discovery, intrigue, and danger.

Little do they know Leonardo da Vinci's book is far more than meets the eye.
I've recently released Loving Leonardo - The Quest, book two in my unusual Victorian bisexual polyamorous romance, Loving Leonardo. Needless to say, when I did this interview, I'd been in a Victorian frame of mind.
I'd done several character interviews in the last two years. Believe me, it's an odd thing to converse with characters born from your imagination, it's even stranger to interview them yourself and not have to think too long before you answer!
I've mentioned here and there around the web that this tale came right out of the American headlines last summer. The news was filled with women's issues and negative talk of "progressives". I'd heard the term women's issues combined with progressive before as though the concept of women making their own decisions was unthinkable. That was the point to the Suffragettes 100 years ago! Here it was 2012 and women's rights were being decided by panels of men. Before I knew it, I had a very American, very unorthodox, Victorian progressive heroine named Ellie and she was as annoyed about the politics of her times as I was about the politics of mine.
What's more, whom you love, and who you wanted to commit your love to, were hot issues as if love itself was a social condition and not a deeply personal thing. Loving Leonardo as a whole is one of those color outside the lines stories for me. I'd never written a ménage before and I didn't set out to write one with this story. I set out to make a mini social statement by writing an intelligent romance between two loving men. I suppose if I was a highly organized person instead of a fly-by-the-seat-of-my-pants writer, I could have held to that original idea. But like any good story that takes on a life of its own, it soon told me where it wanted to go. And that was ok... I like to stretch my abilities as a writer and I especially love challenges. Could I write a love story out of the box? So far readers say yes.

The story continues in the second book. I've enjoyed these characters so much, and reader response has been wonderful. They may very well return for other adventures.
Details details:
My hero Nicolas Halstead is an art historian working for the famed Ashmolean museum. Nicolas leads a somewhat normal life as of a man of means, though he takes pains to hide his homosexuality from the world. He has to. Even though it's no longer a death sentence, his nature is still a criminal offense at this time. One day Ellie, the daughter of an American consul, comes to call and confronts him with her knowledge of his particular predilection. To his incredulous disbelief, she proposes marriage. But there's method to her madness. It turns out she wants him to help her rescue a previously unknown work of Leonardo da Vinci – a book of love poems and erotic sketches from Leonardo to his gay lover Salai. How can Nicolas refuse?
Thus begins their unorthodox marriage and abiding friendship. The book is held by a man who has plans to destroy it for the vulgar thing he sees it as, so they race to Venice and devise a plan on their journey. They didn't count on meeting Luca, himself a historian. Secrets are revealed as they share their common interest in Leonardo da Vinci. While they come to redefine their long-held notions of themselves, a man with a dark obsession comes into their lives.
So as I sat with my tea, my mind revisited previously written story threads on my work in progress searching for that perfect crescendo to end with. Wouldn't you know, Nicolas Halstead appeared beside me. What else was there to do but ask my Victorian gentleman questions?
Nicolas: Rose! Good afternoon.
Rose: Hello Nicolas, what brings you out on a day like this?
Nicolas: You, my dear.
Rose: Oh, I guess I did. How silly of me. I'm having a little trouble ending this adventure of yours. Any insights you could share that might point me in that direction?
Nicolas: Hmm…what would you like to know?
Rose: Well, let's start with the women in your life. What can you tell me about them?
Nicolas: There's my grandmother, Lady Augusta Halstead. I'd describe her as a woman of stately dignity, for she takes her role as Dowager quite seriously. A week doesn't pass where she doesn't make the rounds to visit the Halstead tenants and parsonage. I've never found her affected or stuffy, though there's no denying she has her finger on the pulse of society. She's always ready to laugh and is affectionate in her own reserved way. I don't know what else to say other than I love her. That, and she loves to play mahjong with her friends.
Rose: She raised you.
Nicolas: Yes she did. At a young age I'd lost both my parents and nanny to a coach accident. I'd have to say however, that my housekeeper Mrs. Fletcher played a far greater role in my upbringing. With my parents and nanny dead and my bones broken, I was naturally inconsolable. Grannie was dealing with her own grief, after all she'd lost her only son. Mrs. Fletcher's tenderness saw me through my pain and loss. In fact, I'd bonded so thoroughly with that loving woman that my grandmother dismissed her hastily hired nanny and left me in Mrs. Fletcher's care. Though I was too young to understand it at the time, I'd learned much later that Mr. Fletcher had passed just a month before I arrived in my sorry state. She'd needed me as much as I'd needed her. That Grannie made this small unconventional adjustment to her household was a demonstration of her concern and affection for the both of us.
Rose: That was unusual for the time.
Nicolas: Quite. Mrs. Fletcher still looks out for me. She was very fond of my parents and with Grannie's help raised me in my father's image. I couldn't love her more than I do. To me, she is the only mother I remember.
Rose: And what about Ellie? Ah, that made you smile!
Nicolas: I'll begin by saying her marriage proposal impacted my life in ways I hardly thought possible, and that she's single-handedly brought me immense happiness. She's helped me to discover myself. Not only do I adore her views and perspective, I consider Ellie a true partner in life and love. She's opened my mind to things I'd never thought about before – women's rights for example. I doubt half the men in my own House of Lords are as well versed in Britannia's policies as she is in the politics of your America. My wife is by far the most intelligent women of my acquaintance, present company excepted of course.
Rose: Thanks.
Nicolas: You're welcome, my dear. Ellie is delightfully refreshing. In general, I find Americans aren't as stodgy in their mannerisms as we English are. My wife can be as bold as brass, but that's one of the reasons I love her so completely like I do. She's quick and witty and kind, and has a tremendous capacity for love.
Rose: And that brings me to Luca.
Nicolas: As you are well aware, Luca is a sensitive soul who's been through much pain and isolation. I'd do anything to keep him safe and ease his mind. He's compassionate, loving, and thoughtful. And to those he cares for, he's self-sacrificing to a fault. In many ways, he and I are cut from the same cloth in our interests and views. But where I am reserved, Luca is bold and brave, far braver than I. He's a man anyone would be proud to know, let alone love. Ellie feels that sentiment as well. It's trite to say, but we three complete one another in ways we hardly realized were incomplete a mere six months ago. They love me unconditionally, and I love them for that and more.
Rose: It's impossible not to feel that love between you. How does Thomas fit into this picture?
Nicolas shook his head and as quickly as he appeared, he was gone. He had his reasons. I refilled my cup and went back to my laptop.


I'm not just Hopping for The Hot Summer Nights Hop.

I have two more this week. After you've seen all the fabulous authors participating here, stop by!
My Hot Summer Nights Prize:

On behalf of my 2-book saga: The Witchy Wolf and the Wendigo, I'm offering a gorgeous pair of handmade Native American beaded earrings
as well as an authorgraphed copy of
either book in my shape-shifting, paranormal, erotic romance.


Read how it all started at USA Today!
Want more? Read the beginning excerpt inside the cover

with Amazon's Look Inside feature.
Peek Inside!
>>

۞

<<
Rose Anderson ~ Love Waits in Unexpected Places
Main Blog:
Subscribe on the Main blog for interesting posts, updates & more.
http://calliopeswritingtablet.com/
Satellite Blogs:
One hop or four, there's lots of action on these blogs!
http://calliopeswritingtablet.blogspot.com/
http://calliopesotherwritingtablet.blogspot.com/
http://theancillarymuse.blogspot.com/