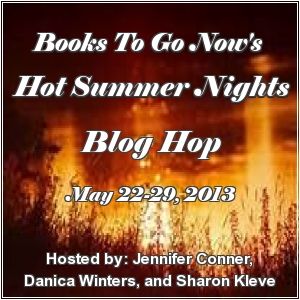 It's day 6 in the week-long Hot Summer Nights Hop!
Join 85 authors as we share sizzling hot excerpts and more. We have some pretty hot prizes too -- two GRAND PRIZES of a Kindle Fire and a $100 Amazon Gift Card. And, every author is giving a prize on their blog. Comment to win and be sure to leave your email so you can be contacted after the hop ends. See my prize details below.
<<<
Click on the badge for the other participants.
Today I'm offering a snippet from a recent character interview with Luca Franco, one of my leading men from Loving Leonardo and Loving Leonardo - The Quest. Luca is very real in my mind and I'll tell you why...

So after my encounter with Nicolas where I sat him down and asked him questions, I wondered what Luca might say. I no sooner had the thought when he appeared at the table. Luca Franco was exactly how Nicolas described him. Of course he would be. I'd seen him myself roughly forty years ago. I never knew his name, but he was much older than I and worked in my neighborhood deli. I grew up in a blended Greek and Italian neighborhood in Chicago. Like a duckling, I do believe I imprinted on dark and handsome Mediterranean men. When I wrote Luca, I saw him in my mind's eye because he was real. I recall he had very little English, but OMG was he beautiful with those snow-shadow eyes against his warm-hued skin. I think cold cuts sales tripled with him there. Luca is my imagination's homage to that gorgeous foreign man. When my voice finally returned, I had a conversation with him.
Rose:
Good afternoon Luca, I'm glad you could join me. The story is told through Nicolas' eyes, but I was wondering if you'd like to share your own perspectives.
Luca:
I am happy to oblige, my dear.
Rose:
Well, to start why not introduce yourself. I'm sure people will be interested in the inner workings of Luca Franco.
Luca:
I can't imagine that to be the case. I'm a simple fellow. But as I owe you much Rose, I'll follow your lead. Where shall we begin?
Rose:
Like Nicolas, you too work at the Ashmolean Museum. What work do you do specifically?
Luca:
I travel the world searching for precious items from antiquity and bring them back to the museum to be studied, catalogued, and kept safe from the further ravages of time.
Rose: And this interest in Leonardo da Vinci you share with Nicolas and Ellie…I know Ellie is drawn to the philosophy of the man many consider to be the personification of the Renaissance, and Nicolas is fascinated by the mind behind man's unique artworks...
Luca:
Yes. They bring perspectives into our conversations that are as intriguing as the artist himself.
Rose:
And what do you bring?
Luca:
I've studied da Vinci's world and his place in history to feed my own curiosity. The man was beyond brilliant. He possessed a ricchezza d'ingegno, a talento. A persona di genio.
Rose:
I'm sorry. I only speak a little Italian.
Luca:
Forgive me. I said Leonardo possessed a richness of intellect, a talent. He was undoubtedly a person of genius

Rose: I find him all of those things as well.
Those snow-shadow blue eyes sparkled. Good lord he was as handsome as I remembered.
Luca:
But of course you would. You're the author here.
Rose:
So…tell me about this unusual relationship you have with Nicolas and Ellie.
Luca:
Never have I felt such loving acceptance. We've bonded through our common interests, beliefs, and temperaments. I love them with every fiber of my being. I'd die to keep them safe.
Rose:
Yes, there are terrible dangers ahead. And do you see this…this, loving ménage lasting? Nicolas has family obligations to his title and estate...
Luca:
Oddly enough, I do. The important thing is love, Rose. With love, anything is possible... no matter the opinions of the world. This is true even in your time, mio caro.
What more could I say. He mirrored my sentiments exactly. Of course he would.
:)
۞

>>>>

۞

<<<<

۞
>><<

۞>>>>

۞

<<<<

۞
Things are still hopping this week.
After you've checked out the fabulous Hot Summer Nights authors, stop by these:
My Hot Summer Nights Prize:

On behalf of my 2-book saga: The Witchy Wolf and the Wendigo, I'm offering a gorgeous pair of handmade Native American beaded earrings
as well as an authorgraphed copy of
either book in my shape-shifting, paranormal, erotic romance.


Read how it all started at USA Today!
Want more? Read the beginning excerpt inside the cover

with Amazon's Look Inside feature.
Peek Inside!
>>

۞

<<
Rose Anderson ~ Love Waits in Unexpected Places
Main Blog:
Subscribe on the Main blog for interesting posts, updates & more.
http://calliopeswritingtablet.com/
Satellite Blogs:
One hop or four, there's lots of action on these blogs!
http://calliopeswritingtablet.blogspot.com/
http://calliopesotherwritingtablet.blogspot.com/
http://theancillarymuse.blogspot.com/