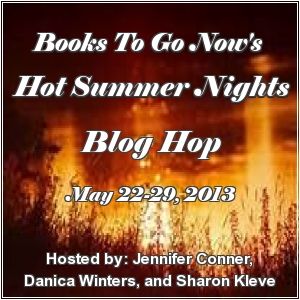 It's day 3 in the week-long Hot Summer Nights Hop!
Join 85 authors as we share sizzling hot excerpts and more. We have some pretty hot prizes too -- two GRAND PRIZES of a Kindle Fire and a $100 Amazon Gift Card. And, every author is giving a prize on their blog. Comment to win and be sure to leave your email so you can be contacted after the hop ends. See my prize details below.
<<<
Click on the badge for the other participants.
Today I'm offering trailers from all four stories. Make some popcorn!
Fun, huh?
I'm not just Hopping for The Hot Summer Nights Hop. I have two more this week. After you've seen all the fabulous authors participating here, stop by!
My Hot Summer Nights Prize:

On behalf of my 2-book saga: The Witchy Wolf and the Wendigo, I'm offering a gorgeous pair of handmade Native American beaded earrings
as well as an authorgraphed copy of
either book in my shape-shifting, paranormal, erotic romance.


Read how it all started at USA Today!
Want more? Read the beginning excerpt inside the cover

with Amazon's Look Inside feature.
Peek Inside!
>>

۞

<<
Rose Anderson ~ Love Waits in Unexpected Places
Main Blog:
Subscribe on the Main blog for interesting posts, updates & more.
http://calliopeswritingtablet.com/
Satellite Blogs:
One hop or three, there's lots of action on these blogs!
http://calliopeswritingtablet.blogspot.com/
http://calliopesotherwritingtablet.blogspot.com/
http://theancillarymuse.blogspot.com/
Salon Blog:
Come start a great discussion or add to one.
http://anotherstoneunturned.blogspot.com/
Social Media:
I'm everywhere! Come say hi. I follow back.
Amazon:
http://www.amazon.com/Rose-Anderson
Pinterest:
http://pinterest.com/FollowTheMuse/
Twitter:
https://twitter.com/roseanderson_
Tumblr:
http://author-roseanderson.tumblr.com/
Youtube:
http://www.youtube.com//MusesWritingTablet
Facebook:
https://www.facebook.com/rose.anderson
About.me:
http://about.me/rose_anderson_author
Author Pages etc:
I have many author's pages and static pages around the web. Too many to list here!