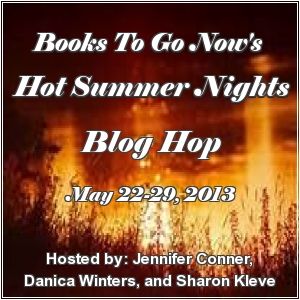 It's the last day in the week-long Hot Summer Nights Hop! Join 85 authors as we share sizzling hot excerpts and more. We have some pretty hot prizes too -- two GRAND PRIZES of a Kindle Fire and a $100 Amazon Gift Card. And, every author is giving a prize on their blog. Comment to win and be sure to leave your email so you can be contacted after the hop ends. See my prize details below.
<<<
Click on the badge for the other participants.
So today is the last day for the Hot Summer Nights hop. I hope you've found some new favorite authors and some really good summer reads (and I hope a few are mine!) Thank you for playing along with us.
I've shared excerpts, interviews, book trailers etc. Today I'm offering a peek inside my head. lol Really! I'm a linear writer, aka pantser. This means I write without a plan. It's not as uncommon as it sounds.
As an intuitive composer and stream of consciousness writer, I literally walk forward into the story and keep on walking until it tells me it's done. Occasionally I'll fantasize about working from a plan. It would certainly allow me to write more stories because I'd know from the start where the story was going and how it would end. Unfortunately I know myself well enough to understand that's not how my creativity works. My stories cascade.
I'll give you an example using The Witchy Wolf and the Wendigo. If you've followed that USA Today link below, then you know about the Wisconsin wolfman. When I heard about the wolfman, I'd also read about the Native American effigy mounds.

Shortly after that discovery, I had friends
over for dinner and
told them about the story. In the course of conversation someone proposed a thought: What if the wolfman was a shaman in ceremonial attire? A light bulb lit over my head and my imagination cascaded. What if the shaman was ancient and he was watching over an important grave? What if this one man was the source of all the legends? What if he could shape-shift into the form of animals? What if he was in the form of a wolf and got hit by a car? Who drove the car? A veterinarian! And she's single!

And the story wrote itself. :)

I get a few good surprises not knowing what's around the bend. I say good from the view of a romance reader as well as author. I'm picky. If I can please me the romance reader, then so much the better!

My stories have moments where I've either tickled my brain because it's funny or charming or I'm struck by how profound the image is or surprised by the direction the story suddenly takes on its own. Writers know what I mean. It's that spot where you reread your paragraph and go, wow that's good, as if you hadn't actually written it! Every once in a while I'll write a scene like someone else is moving my hands over the keyboard. (The ancient Celts called that other-body sensation of possession being ridden). Writing certainly can be a form of possession at times.

Here are four moments that I've found charming, funny, surprising, and profound:



Charmed me


Hermes Online

Allow me to pay homage to the goddess you are. Let me begin at your little feet. Feel me lightly kiss, and yes, you will feel me bite ever so slightly, for the need to devour you is great. Reply lover. I await.

S
Made me laugh


The Witchy Wolf and the Wendigo

Knowing he had to resume his wolf form at Livie's home, he took a deep breath and shifted, but his inebriated mind was not concentrating and he ended up with a raven's head atop his man's body. He tried again. Forgetting that he still wore clothes, he found himself a small bird, pinned and struggling under the heavy garments that had fallen to the ground in a heap. He shifted into a feathered snake before taking the form of a mouse and working his way out of a sleeve.

The movement caught the attention of an owl on its nightly hunting foray. Just as it was about to swoop low on silent wings, intent on nabbing the large field mouse, a naked man with a mouse tail and whiskers appeared. The owl, clearly startled, flew off into the night. Laughing, Ash raised his arms and yelled after it, "This is not your night, my brotherrrr!"

Tail and whiskers absorbed into his changing form and once again bare skin grew feathers. He shifted into a raven — a six-foot-tall raven. Laughing at himself, he made his body small and flew fast to Livie's home, albeit not in a straight line.



Surprised me


Dreamscape

Resisting the overpowering urge to touch her again, he closed his eyes instead and whispered, "Dream of me, sweetheart. Show me where to go." And, just as he projected himself from room to room, the energy of his spirit plied her synapses…and to his complete and utter surprise, he fell into her dream.



Profound realization


Loving Leonardo

When in the presence of true beauty, my mind often imagines the person unclothed as the artists of the ages might have seen him. Sitting at my table was a statue carved in marble by Gian Lorenzo Bernini; an artist known for his remarkable ability to capture the essence of a narrative moment. And I found Luca Franco to be exactly that — a moment indelibly captured in time — a moment of meeting the mind could revisit in its entirety.

From every angle, he was beautifully made: black-haired, of medium build, and physically fit. He possessed a warm hue to his skin, his lineage no doubt stamped centuries past by the darker Moors or Turks. In startling contrast, and quite handsomely framed by black lashes, he had striking eyes the color one might see in a shadow falling across snow — not quite sky blue nor exactly steel gray, but a blending of the two in gradated rings.

I rose to shake his hand and felt the unmistakable current of compatibility. If this man weren't forward in his mutual attraction, it was there nonetheless.
۞

>>>>

۞

<<<<

۞
>><<

۞>>>>

۞

<<<<

۞
When you're done taking one last look at all the fabulous author blogs today,
check out my

Main

blog where I'm chatting up phrases rooted in our everyday conversations
http://calliopeswritingtablet.com/
Thanks again for joining us. Have a wonderful summer!
My Hot Summer Nights Prize:

On behalf of my 2-book saga: The Witchy Wolf and the Wendigo, I'm offering a gorgeous pair of handmade Native American beaded earrings as well as an authorgraphed copy of either book in my shape-shifting, paranormal, erotic romance.


Read how it all started at USA Today!
Want more? Read the beginning excerpt inside the cover

with Amazon's Look Inside feature.
Peek Inside!
>>

۞

<<
Rose Anderson ~ Love Waits in Unexpected Places
Main Blog:
Subscribe on the Main blog for interesting posts, updates & more.
http://calliopeswritingtablet.com/
Satellite Blogs:
One hop or four, there's lots of action on these blogs!
http://calliopeswritingtablet.blogspot.com/
http://calliopesotherwritingtablet.blogspot.com/
http://theancillarymuse.blogspot.com/

Salon Blog:
Come start a great discussion or add to one.
http://anotherstoneunturned.blogspot.com/

Social Media:
I'm everywhere! Come say hi. I follow back.
Amazon: http://www.amazon.com/Rose-Anderson
Pinterest: http://pinterest.com/FollowTheMuse/
Twitter: https://twitter.com/roseanderson_
Tumblr: http://author-roseanderson.tumblr.com/
Youtube: http://www.youtube.com//MusesWritingTablet
Facebook: https://www.facebook.com/rose.anderson
About.me: http://about.me/rose_anderson_author

Author Pages etc:
I have many author's pages and static pages around the web. Too many to list here! If you see me, do say hi!
What's next?